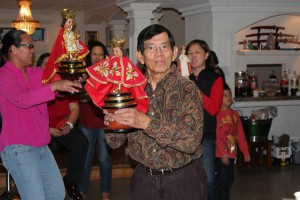 Sinulog dance steps were believed to have been originated from Rajah Humabon's adviser, Baladhay. It happened during Humabon's grievious moment when Baladhay was seriously ill. Humabon commanded his servants to take Baladhay into a room where the Santo Niño was enthroned, along with the other pagan gods. Few days later, Baladhay was heard screaming and seen dancing and  apparently cured.   As  Baladhay pointing at the Image of the Santo Nino, he explained that he was awaken by   a small child walking  on top of his belly as he tickled him with midribs of coconut leaves.   Baladhay explained further, that he was dancing with the little child  with the rhythm and movements of the river:  "two-steps forward, one-step backward". The tradition has been continued until today by the Santo Nino devotees who believe that Baladhay was cured from his illness by following the Santo Nino's instruction to dance.
Meanwhile, on April 15, 1521, the Portuguese explorer Ferdinand Magellan arrived in the Philippines and planted the cross on the shore of Cebu,  claiming the territory for Spain. He presented the image of the child Jesus, the Santo Niño, as baptismal gift to Hara Amihan, wife of Rajah Humabon. Hara Humamay (or Amihan in some versions) was later named, Queen Juana in honor of Juana, mother of Carlos I. Another 800 natives  were also baptized to the Roman Catholic Church that day.  At the very moment the Queen touched the holy image, it was said that Queen Juana danced for joy as she raised up the image of the child Jesus. The 800 newly baptized natives also danced with the Queen, and said  to be the first Sinulog.
This baptism event  has been used also as basis for most Sinulog dances, which dramatize the coming of the Spaniards and the presentation of the Santo Niño to the Queen. A popular theme among Sinulog dances is Queen Juana holding the Santo Niño in her arms and using it to bless her people who are often afflicted by sickness caused by demons and other evil spirits.
 Sinulog, San Francisco, California
Photo courtesy of Romel Canares
Please visit our Main website @ www.santoninodecebu.org